On the Road . . .  No, the only "beat" is me after a whirlwind vacation.  Lets see . . . Chicago, Michigan, back to Chicago, Cincinnati, Williamstown Kentucky, back to Cincinnati, Brownsville Kentucky, back to Cincy, Springfield Illinois, Union & LeClair Missouri, Ste. Genevieve Missouri, Grinnell.
9 days.
But what a great time!  Got to Kiss "THE TROPHY"!! (well, the case the trophy is in anyway)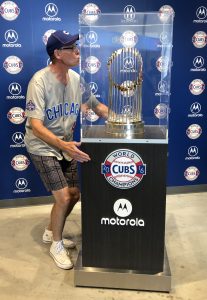 Had AMAZING SEATS for a CUBBIES WIN at Wrigley Field (Thanks sis!)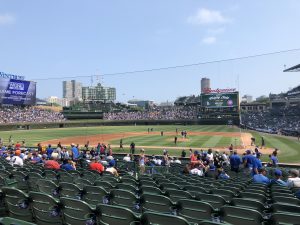 And got to have dinner with the "Fantastic Four" (thanks AGAIN, sis)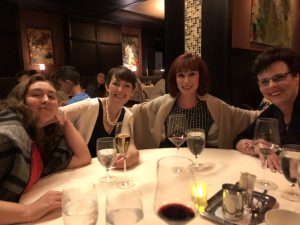 (My daughter, my lovely wife and my two lovely sisters.  I'd mention their names, but I don't want to invade the privacy of Zoe, Gailanne, Julie and Becky)
And that was just Day 1!
There were some down moments . . . maybe not down, but really strange.  Like on two (2) SEPARATE occasions, I encountered a pair of abandoned men's underwear in public restrooms.  One in a truckstop somewhere in Indiana, and one in a Bob Evans Restaurant bathroom in Cincinnati.  At least the former was in the trash bin, the latter however was still lying at the base of the commode.
Which makes one wonder . . .
How hopeless must that person be feeling if he felt there was no other alternative than to "jump ship"?  I mean I've had some serious  . . uh .. .crises in times gone . . but I've NEVER had to leave any soldier behind, if you know what I mean.   Honestly, how desperate was THAT situation?  And since it PRECEDED me, twice in my travels . . . should I have been concerned about what was around the next corner?  Especially since I was eventually traveling to caverns!
And as long as we've ventured down this unfortunate path . . . what would Batman do in that situation?
Poor Alfred.
Peace
TD